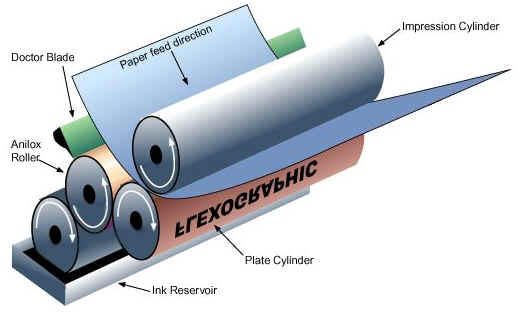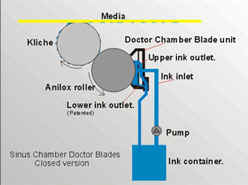 Conventional flexo Close chamber inking system
Flexography (often abbreviated to flexo) is a form of printing process which utilizes a flexible relief plate. It is essentially a modern version of letterpress which can be used for printing on almost any type of substrate, including plastic, metallic films, cellophane, paper and cardboard.
It is widely used for printing on the non-porous substrates required for various types of food packaging and shoppers (source wikipedia)
There are three different flexographic machine configurations.
| | |
| --- | --- |
| | In line |
| | Stack |
| | Common Central Impression or central drum |
In line configuration the print unit follolow one after each other in the horizontal way, widely used in the self adhesive labels, shrink sleeves etc. thanks to the possibility to have "in line" different options like other printing methods as:
| | |
| --- | --- |
| | Offset |
| | Screen |
| | Rotogravure |
or finishing processes as:
| | |
| --- | --- |
| | Peal seal |
| | Hot or cold foil stamping |
| | Embossing |
| | Creasing |
| | Die cutting |
| | Slitting |
Stack configuration the print units are one in top of each others normaly 2, 3 or 4 on each side of a tower , each printing unit has an individual counter cylinder (impression) mostly used for PE shoppers printing, paper bags
Central Impression or Central Drum same as Stack which instead of individual impression cylinder has a high diameter drum as common impression cylinder surely the most used system used in the food packiging printing of thin and extensible films like thin PE .
The wrapping of the material around the drum avoid its alongation during the process and guarantee perfect color registation.
All the configurations can be gear driven or eletronic shaft driven (Gear less) thus enalble the infinitesimal print repeat without gear pitch limitation.
TYPICAL MACHINES LAY-OUT
| | |
| --- | --- |
| | In line |

| | |
| --- | --- |
| | Stack |

| | |
| --- | --- |
| | Central Impression or Central Drum |

Like in gravure also also in the flexographic printing process it is possible to use different kind of inks like:
| | |
| --- | --- |
| | Solvent base |
| | Water base |
| | U.V. |
| | E.B. |
| | LED |